This past Sunday marked the final day of my trip to South Florida. Having taken care of the backcountry fishing, it was time to do some offshore fishing. I got in touch with Sig Ozols of Hot Shot Charters and set up a full day offshore trip, this time bringing along my old college roommate, Kyle.
We met up with Sig for a 7 AM departure out of Dinner Key Marina in Coconut Grove. Sig's mate, Chris, grabbed our bag – and more importantly our beer. We pushed off and started off to the fishing grounds. The inshore bite was dead according to reports, so we made the run to the further fishing grounds, about halfway to Bimini. That may sound like it's really far away, but it was still only a 30-45 minute run.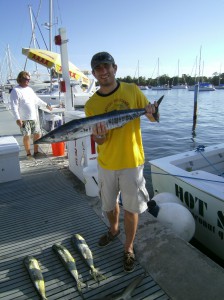 Once we got to our fishing grounds, Chris rigged up the rods, clipped them to the outriggers, and we started our troll. Not 5 minutes in, our down bait gets hit. I grab ahold of the rod and start cranking away. A couple minutes later, I have a beautiful 10-15 lb wahoo at the boat. Chris gaffed it and tossed it in the icebox. The morning was off to a great start. Chris reset the bait as Sig kept the troll going. A little while later, we start getting another hit on the down bait. This time Kyle grabs the rod, and brings in a smaller mahi mahi. Chris reset the baits and we readied ourselves for the next one.
The morning grew later and Kyle and I were relaxing with a beer (come on, it's 5 o'clock somewhere), when suddenly we saw a mahi mahi skipping through the air behind the boat. Sure enough, seconds later, it took a bait. I grabbed the rod and started the fight, but it managed to shake the hook. Through the rest of the morning, we put two more mahi mahi in the boat. We were hoping to find a school of the mahi so we could toss a fly line out to them, but no such luck. Sig asked us if we wanted to change things up, which meant it was time to go sailfishing. Sig set course for the sailfish grounds while Chris got the spinning rods rigged up.
With a few hours left, Sig got the Hot Shot into position, and Chris let out the baits. A little time went by with no action, but we saw a sailfish hooked and dancing across the surface behind one of the boats several hundred yards away. We knew we were in the right spot, and it was only a matter of time before it was our turn. Not long after, we could see one of our baits start to get nervous. It was exactly what we were waiting for – a sailfish. It took the bait, and I grabbed the rod and started the fight. While I was grabbing the rod, we realized another bait was getting nervous. About 30 feet behind the boat, my sailfish crashed through the air as Kyle's rod doubles over. We've got two sailfish hooked! Kyle's starts jumping about 150 feet behind the boat, and his drag starts screaming. All the fun proved to be too much of a distraction for me, and I didn't keep enough tension on my fish and it threw the hook. Kyle's was still fighting strong. Kyle battled back and forth, with Sig passing along instructions and controlling the boat, while Chris stood by Kyle's side to lend a hand when needed.The battle went on for about 5 minutes before our luck took a turn for the worse and our line got caught up, and the sailfish broke off.
After we collected ourselves from losing the double, we had about an hour's worth of fishing left, and we were optimistic for another shot. We reset the baits and began the waiting game again. Another nervous bait, and another fish on the end of the rod. I picked it up, and started battling. It felt like a pretty good fish, but we didn't see any surface action. After a couple minutes of the fight, we were pretty sure we didn't have a sailfish, but still knew it was something with decent size. The fish was close to the boat, and we realized we had ourselves a Silky Shark. The shark proved to be our last fish of the day, and while it wasn't a sailfish, it was still a fun fight.
Back at the docks, Sig cleaned and bagged our fish while Chris got the boat cleaned up. Sig apologized for the "slow" action, but I never would've guessed that action would've been considered slow. If that's supposed to be a slow day, I can't wait until the next time I fish with Sig and it's a great day! Sig has a very laid back personality, and loves being on the water and having a good time. He's your ticket to a great day on the water.
Ready to book a trip with Sig Ozols aboard Hot Shot Charters? You can contact Sig via email at captsig@hscharters.com or call him at (305) 608-3913 or (305) 667-2129. Visit his website at www.hscharters.com for more information. Sig leads trips inshore, offshore, and on the reefs for everything from snapper to mahi-mahi, tuna, and wahoo to sailfish and marlin. Check out all our pictures from our trip on our Facebook album.