Last weekend I was invited up to Newport, Rhode Island for a fishing trip aboard Commotion Charters with Captain Dan Tye.  The "Commotion" is a gleaming 50 foot sport fisher. Originally delivered in 2009, this boat looks like it just took it's maiden voyage yesterday! It sleeps 6, has an air conditioned salon, full bathroom, freshwater maker, refrigerator and freezers. If you're making a family trip for the day, there is even a TV with Pla
ystation. While all the luxuries are great, the outside is what counts the most where you'll be spending your time fighting the fish. Commotion Charters has all the finest gear, whether you're targeting bluefish or bluefin. The outriggers gets you more exposure to the fish, while the tuna tower provides a great vantage point for spotting tuna and shark. When you end up reeling in dinner, there's a large fishhold. Keeping the bait to land that giant is no issue either with the large livewell and bait freezer with an on board icemaker. The twin diesel engines will get you to the fishing grounds fast where you'll put the gorgeous fighting chair to good use. Don't want to sit? Commotion's crew with strap you into the stand up fighting gear.
The weather was on our side with plenty of sun and calm seas – not like Commotion has any issue handling rough water. Our initial plan was to make a run to the Canyons, but fishing reports led us to make a game time change in plans to a shark fishing trip. We decided there was no point in spending the time to get all the way out there if the fish weren't biting. Besides, that just meant I got to sleep in a little later.
Commotion Charters provided all the frozen bait we needed, but the captain suggested catching some live bait first. When live "bait" fishing for sharks is 3-5 pound bluefish on light tackle, how can you say no? That in itself makes for a great day of fishing! While trolling for blues with the backdrop of Narragansett Bay is great, that wasn't the intent of our trip. We put our fish in the livewell and got ready for the real fishing.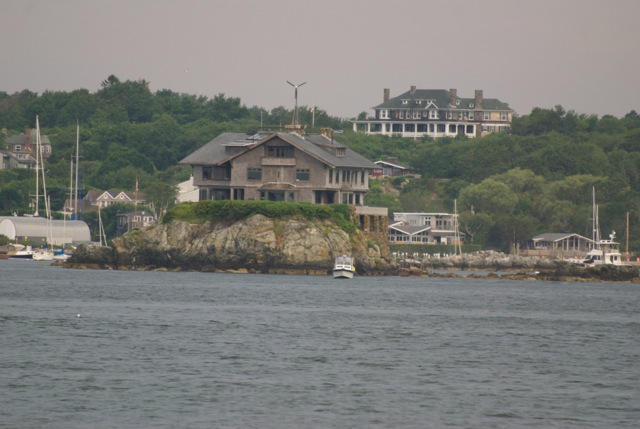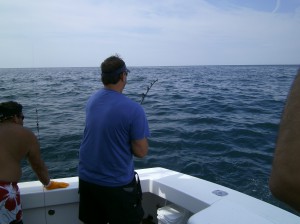 We sped off to the fishing grounds, got our chum slick going and our baits set, began playing the waiting game. It didn't take too long before the first balloon dipped hard in the water – the first shark took our bait. After a nice fight, we had a 7 foot blue shark at the boat, photographed and released.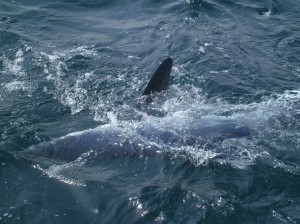 With the baits reset and our heartbeats back to normal, we continued chumming the water trying to attract another shark. We kept a spinning rod baited with a chunk of mackerel and about 10 feet of line off the stern. Our hope was a big shark would take the bait right in front of us. While that didn't happen, a BIG 20-pound bluefish did take the bait.
Unfortunately, I wasn't paying nearly enough attention and we lost the fish before I could set the hook. Our disappointment didn't last long as we got hit by another shark. Another battle, another shark at the boat. This would be our biggest of the day – a 9 foot blue shark. Unfortunately, with the swivel at the rod tip, the shark made one last ditch effort to get away and snapped the line before we could get any pictures. We brought in one more 7 foot blue shark before calling it a day.
I had a great trip with Commotion Charters, and hope I'll be able to join them on another trip soon!
Want to book your own trip aboard Commotion Charters? Contact Captain Dan Tye at (407) 463-9912. Commotion Charters sails out of Hyannis, MA during the summer and fall, and Florida during the winter. Commotion Charters targets everything from Striped Bass to Bluefin Tuna to Shark to warm-water species in the Canyons.