Sometimes, a once in a lifetime opportunity comes your way and you just have to jump on it. When I received an email from Albemarle Angler about some upcoming hosted trips, it was sheerly by chance that I clicked the link to read more about one. At this point, I don't even remember what the trip was, because I very quickly got distracted by something that was way cooler. A legal week long trip to Cuba for bonefish, permit, and tarpon. To a virgin fishery. Before Americans are generally allowed to go Cuba. I called up Scott (he's guided me a couple times before for smallmouth bass on the Shenandoah) to ask a couple questions. It didn't take much before I was booked. Only 9 months on the calendar until it was trip time.
The preparation phase of this trip was probably the worst. I had done one day of fishing for tarpon on the flats, but other than that, never before done any sort of tropical fly fishing. I was no stranger to the flats targeting redfish, but this was a different beast. Other than pictures, I had never even seen a bonefish or permit before this trip. I had no idea what to expect, what flies to tie, or how much gear I really needed to buy (OK, buying the gear was fun). Luckily, Scott and crew were always a phone call away to make sure I came all set up, well stocked, and well prepared. Note: as good as they are, they can't force you to remember to pack that rain jacket. Brrrr.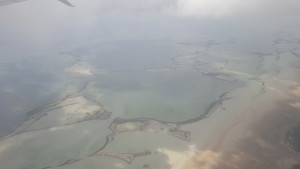 Finally, it came time to get on the plane to Cuba. Well, to Canada first, since we still don't have commercial flights. My excitement really started building as we're approaching the Cayo Cruz airport. You could see incredible expanses of flats everywhere. Wetting a line was only a day away, but felt like it was still an eternity.To be honest, I wasn't even sure I was going to make it on the trip. I got a lovely diagnosis of the flu four days before I was supposed to leave. Luckily, that tamiflu stuff is a beast.
We landed, hopped in a couple taxis, and made the two hour drive to the lodge. It quickly became quite obvious that we were not in a place we were used to. There were very few cars – although there were far more new cars than I was expecting mixed in with the classics. Sugar cane fields were absolutely everywhere. And the main mode of transportation for people was donkey carts.  Upon arrival to the lodge, we were warmly greeted by the staff and were quickly fed some mojitos. After dinner, we did introductions, met the guides, and planned out the following day. The fishing area is broken out into 6 zones. Generally, they only have one boat operating in each zone, although they're big enough that you could never run into each other if you share a zone.
The marina was about a 30 km drive from the lodge, which took a little over an hour due to the terrible roads. We got to the marina early the first day to rig up our rods, then hopped in our boats and went off. This is where my forgotten rain jacket would've come in handy. The boat spray and the downpour we had in the first hour made for a chilly morning. The first day, I fished with Carson, the owner of Albemarle Angler and co-host of the trip, and our guide Nelson. Carson knew I had never caught a bonefish before and wanted to get some footage of my first. We waded a massive lagoon (it took us over 6 hours to fish half of it), so I had Nelson and Carson's eyes helping me look for my first bone. It took a while, but we finally found a school of about 10 bonefish swimming right at me. I dropped my Gotcha into the fray and had one bite, but I couldn't connect. I kept stripping, got another strike, but couldn't connect again. A quick recast and I got tight. The bonefish took off screaming, but my Hatch Finatic 7 Plus was no match for slowing it down. Before long, my first ever bonefish was in hand.
After the rush of my first, Carson started fishing on his own as well. It was tough conditions with a cold front having come through and lots of clouds. That didn't stop the fish, nor stop us from catching them. Carson and I combined for 22 bonefish to the hand by the end of the day – 13 for him and 9 for me. I got one barracuda, which was a blast, and had a lemon shark eat about 10 feet from me, but he broke me off 10 seconds later.
As the week progressed, conditions got better and better. On my second day, I finally got a shot at a permit. I dropped the fly in front of the fish, and heard the guide yell "Strip! Strip! Strip! SET THE HOOK!" A long pull with my left hand and…. I pulled up two feet of slack and watched the permit spook away. Whoops.
There was something about me and my boat that seemed to attract permit. I had by far the most shots at permit, delivering the fly to around 20 fish. I only got two fish to eat – that first one, and the very last one I saw – but couldn't come tight to either. One of the other guys had a bonefish steal the fly out of a permit's mouth. But, that was the closest anyone got to catching one that week. It was tough conditions all week for permit and not prime time, but we still go in our shots.
Toward the end of the week, we had a glass-calm morning. The guide said we were starting out looking for tarpon. With the calm weather, we had a good chance at finding some of the resident tarpon rolling. We saw the first roller only a couple minutes after getting to the flat. We pulled up, the guide pointed a fish out, and I dropped in the fly. A fish ate, but I only stung his lip. Next cast, another eat, but I set too soon and pulled it out of his mouth. Nothing on my third cast. Fourth cast brought a mangrove snapper to hand. My fifth cast turned out another eat. I yanked on the line and got solid contact. The guide starts telling me to set the hook again. The tarpon started running directly at me and past the boat. As I'm trying to keep from getting slack, let alone another attempt at a hook set, I get jumped. I turned over the bow to my boatmate after that, but we couldn't get another shot. Carson ended up landing one the next day.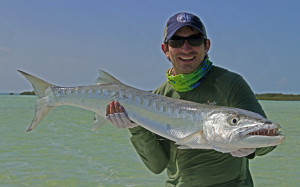 Of all the fish I caught the whole trip, my favorite by far was barracuda. I caught two on the trip, with the second being a pretty hefty specimen. These fish will take 100 yards of backing in about 10 seconds. Apparently, most jump, although I only had my second one jump. He was a feisty one. Once hooked, he started jumping and tailwalking as if he was a sailfish. With each jump, he'd easily clear 40 feet of water before going back to swimming rather than flying.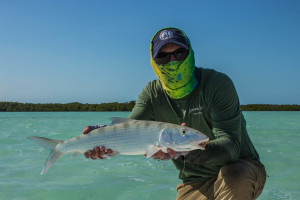 There were quite a few unique things about the Cuban fishing. First, these bonefish are stupid. You can completely miss your cast, even dropping it 5 feet behind the fish, and it'll come back and destroy your fly. You can get a bad hookset, pop the fly out, and it'll pick up the fly again. Even with a couple cold fronts coming through and less than ideal conditions, bonefish were always fairly plentiful. Over the week, I caught about 30, despite focusing on permit several days. The flats are quite unique as well. There are more than a few areas where the flats go on as far as you can see. Some are easily over a square mile. While I have no comparison since this is my first trip, I was told some individual flats are bigger than all of Ascension Bay. Lastly, no matter what flat you're on, you always have a chance at seeing a permit. In fact, there wasn't a day where either I or my boatmate didn't see a permit. Because of that, more often than not, I wound up throwing my 10 weight Helios 2 just in case we ran into a permit. But, that didn't stop the bonefish from putting up one heck of a fight. Many would take us well into our backing. While the fish weren't necessarily too long compared to other destinations, they were far fatter. The average fish was 4-5 pounds, with quite a few hitting the 10 pound mark.
So far, the Cuban fishery has been amazing. Hopefully, it will stay that way. Luckily, the Cubans are very proud of their environmental resources and actively try to protect it. However, as things begin opening up with the US, who knows what will happen. Surely, it will get way more expensive. If you want to go, make some moves quick. Albemarle Angler is hosting another trip to Cuba in December 2016. I highly recommend getting in before things start to change!