I caught the itch a little while ago for some smallmouth bass fishing. I had caught plenty of smallmouth bass from ponds and lakes, but had never really targeted them in rivers. The Shenandoah River is well known for its smallmouth bass fishery, so I figured there was no better place to start. I booked a full day float trip on the South Fork of the Shenandoah with C.T. Campbell of Page Valley Fly Fishing for this past Saturday to get my line wet.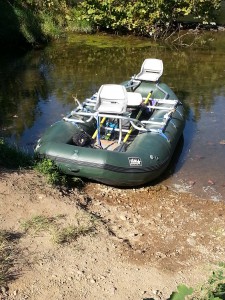 C.T. is a retired back country ranger who now operates a guide service based out of his hometown of Luray, Virginia. He's been guiding for 15 years, and has a great knowledge of the local rivers and area – and it sure shows in his in depth knowledge of the river. Even his boat is ideal for the river. It's a big, self bailing inflatable craft that comfortably seats two anglers. The seats swivel 360 degrees so you're always able to get yourself into position. The front seat also has a platform on which you can stand and fish. Even after 8 hours on the river, I never got wet, felt fatigued (from the boat, anyway) or uncomfortable.
We were blessed with an absolutely gorgeous day. Mid-high 70's and sunny all day. Unfortunately, the sunny conditions combined crystal clear water made for a technically difficult day of fishing. We soon found out the fish would be incredibly spooky and we'd need to make minimum 30-40 foot casts to avoid spooking the bass. We saw tons of fish, including some pretty big ones, but with water clarity letting us see the bottom in 10-15 feet of water, the fish would tend to see us first. If that didn't alone scare them, the motion of the cast or the fly line landing anywhere nearby sure would.
In the morning, we started with some poppers on the surface. Regardless of how "fishy" a section looked, we couldn't even get a smallmouth to follow a fly if it was in the sun. The shade line was where the fish were biting, so we stuck to anywhere we could find some shade. We were catching a few smallmouths mixed in with tons of sunfish – or as C.T. calls them, "Fish Tacos." While the sunfish are fun, they weren't what we were after. We were abiding by the "big fly, big fish" theory in hopes to avoid some of the sunfish, but that seemed to attract only the big sunfish. Not the worst problem in the world!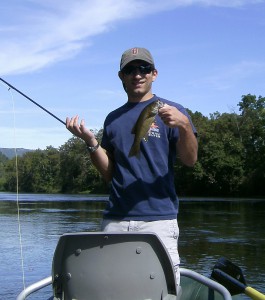 With the smallies seeming to be a little slow on the bite, we switched over to some streamers. My second cast with an olive and white clouser elicited a vicious bite from a smallmouth. A few casts later and BAM! Another smallmouth. The clouser was getting plenty of strikes from the smallmouths, but still couldn't draw anything out from anywhere sunny. At this point, we broke for lunch. C.T. brought us lunch on the river, and we made our own sandwiches, snacked on some chips, and followed it up with his wife's phenomenal homemade brownies. C.T. includes all this on his full day float trips, along with plenty of water and gatorade. Being a environmentally conscious guide, C.T. ensured all the trash we brought in was taken out.
After lunch, one of the first sections we hit was where C.T. knew there would be some big fish. It was a deep cut right along the edge of a river where it runs against a cliff. He tied on one of his local favorites, a "Magnum Hog Sucker," and told me he was guaranteeing I'd catch a fish on it in that cut. Sure enough, I got hit and there was his promised fish. Smallmouths are known for their strength and great fight, especially compared to their bigger Largemouth cousins. If you're used to fishing for smallies in lakes, what you may not realize is how much stronger the ones that live in rivers fight. This guy we picked off from the deep cut was no exception.
The bite in the shade stayed consisted for the next 30 minutes or so, when suddenly the fish turned on in the sun. Nearly every cast to anything "fishy" looking would at least produce a follow, if not a strike. I had long ago stopped counting how many smallmouths I had caught, and the fishing was faster than ever. Every place C.T. would tell me to cast would bring us a fish. This continued on until the sun was low in the sky. The bite slowed a little, but I slowed even more. The last hour still produced plenty of strikes, but my reflexes slowed down too much to get a good hookset on anything.
The day's catch totaled well over 30 smallmouth bass with plenty in the 12+ inch range, close to as many sunfish, and a nice largemouth bass. We also spotted several big catfish – probably 20-30 pounds – along with a few large carp. As if the fishing isn't enough to make a run down the Shenandoah, the wildlife and scenery is a bonus. There are gorgeous views everywhere, and we saw tons of great blue herons, hawks, and even a bald eagle. There was even a raccoon cleaning himself off in front of his riverfront hole. The worst part about the trip is how desperately it makes me want to go back out. With the season winding down, it's going to be tough to sneak in one final trip!
Ready to book a trip with C.T. Campbell / Page Valley Fly Fishing? You can contact C.T. via email at marcycampbell@embarqmail.com or call him at (540) 743-7952. Visit his website at www.pagevalleyflyfishing.com for more information. C.T. offers full day smallmouth float trips plus full and half day wade trips for either smallmouths or brook trout. His 2012 rates begin at $150 for a half day wading trip. Quite a deal for such a skilled guide!